Team Parties
Party wise, Grey Cup weekend usually looks pretty familiar from one year to the next, with a couple of variations. I've tasted them all over the course of my previous 14 pilgrimages. At some, you can have so much fun the whole thing's over before it's started. Others are like your in-laws, only bearable when drunk.
1. Spirit of Edmonton (5/5)
Rises to the top this year despite an inadequate venue at 106. You'll never have a bad time here because this is a perennial party powerhouse. You need to visit at least once this weekend.
2. Atlantic Schooners Down East Kitchen Party (4/5)
Year after year, this is one of the best shows in town. They usually pull in a great band, though the beer can be pricey. You won't go wrong here Friday or Saturday night.
Kiss the cod and get screeched in (seriously)! Also, tasty lobster rolls made fresh just for Grey Cup!
3. Touchdown Manitoba (5/5 for Bomber fans 4/5 for everyone else)
This is only five precious hours long but in that time they cram in a ton. Cheerleaders, the Grey Cup and many of the Blue Bombers themselves. Annually this is ranked as the best party by many of those other than myself. A must for Friday afternoon.
There's a great silent auction and large spread of cold cuts for lunch. That's right, your ticket includes a feed.
This has sold out years when the Bombers weren't in the Cup so do buy tickets in advance!
4. Riderville (5/5 for Rider fans, 2/5 for everyone else)
I have to admit I haven't been here in a few years. It's the least diverse team party. I'm sure it's great if you're a Rider fan. Can't say I've ever had even a mildly good time here as they aren't exactly friendly to my kind. It runs all weekend so it might be a decent fallback, failing all else.
5. Lion's Den (3/5)
I have no idea why, but I meet more players/alumni here than anywhere else. That reason alone makes this worth checking out if you haven't before.
6. Stamps House (2/5)
This also runs all weekend, probably because they are hosting. Always country music and cowboys. Great — if that's your thing.
7. Bomber House (1/5)
This is all I could find about it on the interwebs:
Don't miss Bomber House, the official Winnipeg Blue Bombers party location Friday and Saturday night from 8:00 PM – Close at Hudsons Downtown (1201 5 St SW, Calgary, AB)
Well I've missed it before. Might be a good place to grab dinner if you're a Bomber fan.
Don't confuse this with Touchdown Manitoba (above), it's not the same shindig!
Other Grey Cup Parties
SiriusXM Saturday Night Concert (2/5)
My experience with these has been that they are WAY overpriced and sometimes completely dead. They are only worth considering if you like the bands. That said, I believe Terry Cahill is hosting. Soooo maybe worth a try?!
Tailgate Parties (2/5)
I don't know why the Calgary Grey Cup Committee thinks it can charge $35 for entrance and then make you wait in line for beer. This doesn't sound right to me.
CFL Player Awards (2/5)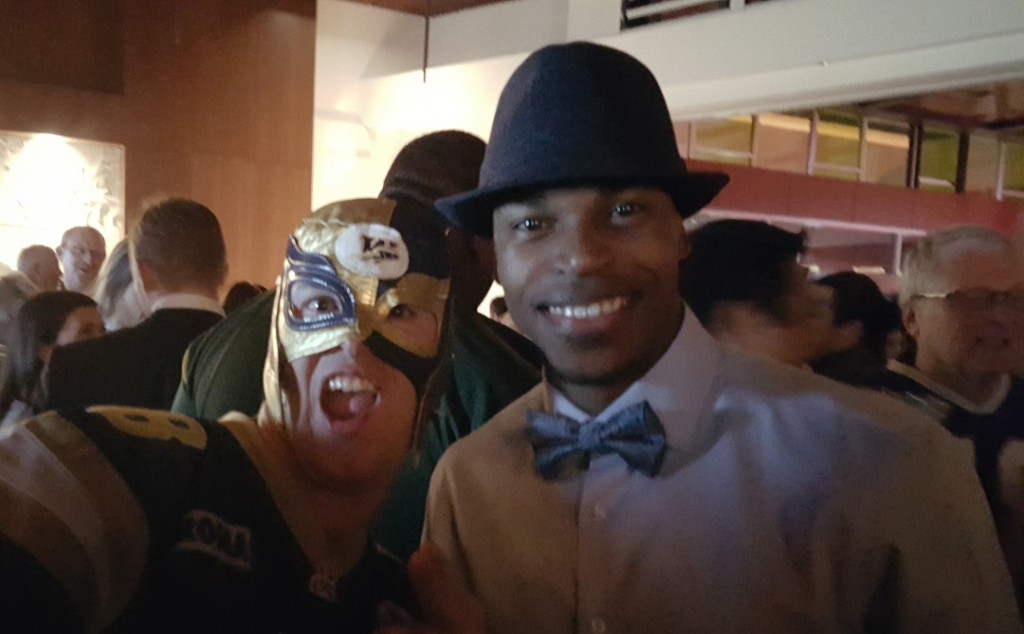 Hahaha, don't. You can get cover and drinks at all the other parties all weekend for the same price as this rip off. The players and TV personalities all bug out as soon as they can anyhow. Also, it's usually a black tie affair, meaning no colourful fans. What's the point then?
Anything with VIP in it (unranked)
Don't pay for these unless you're in the 1%. They might be OK but certainly not worth the money. Even if you are independently wealthy, you want to be hanging out with us plebs at Grey Cup anyhow.
Check greycupfestival.ca for the most up to date information on all the official parties and events.